New Zealand dollar ($) - NZD
New Zealand dollar ($) - NZD

Australian dollar ($) - AUD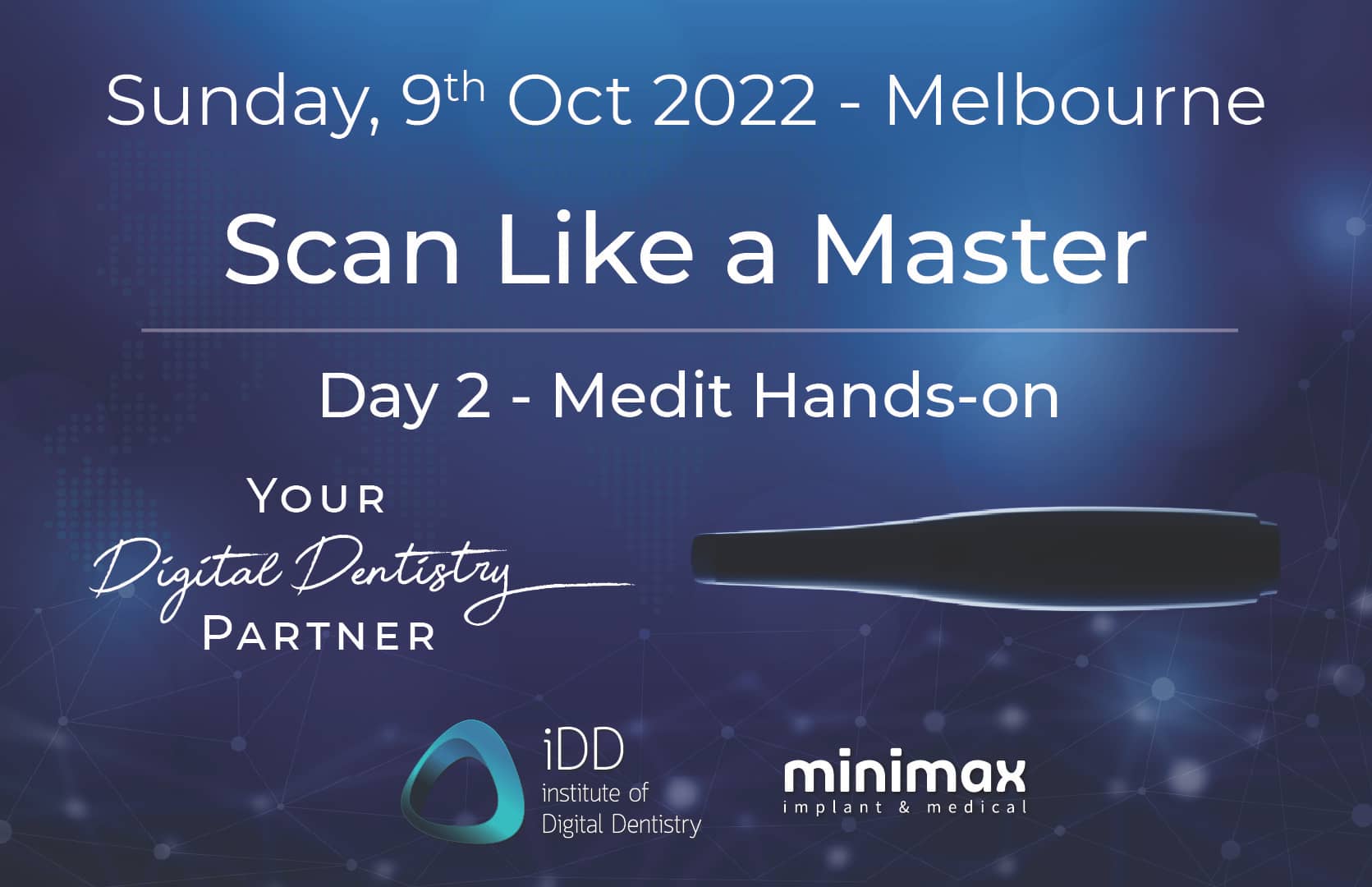 Scan Like a Master – Melbourne – Medit Hands-on
363
363 people viewed this event.
Day 2 Hands-On Course Outline:
Pre-requisite for Day 2: This is only for you if you have a Medit scanner and laptop to bring along, as it is hands-on scanning and software training.
1:1 Coaching – Live Hands-on scanning practice with one-on-one coaching on how to do a full arch scan in under 45 seconds. You will be able to practice and be taught how to improve on a live patient.
Perfect Fitting Crowns – master proper scanning strategy, liquid control, and soft tissue management and ensure your lab has everything they need to make a perfect-fitting crown.
Hands-On Scanning Training with 3D printed models we will provide you:
Digital Implant Workflow – how to scan implants, what's a scan body and how to communicate with your lab
Cosmetic Cases – learn how to use pre-op scans and wax-ups for your cosmetic cases
Crown and Bridge – learn all the tips and tricks to ensure perfect fitting restorations + how to troubleshoot if you get an ill-fitting restoration.
Hands-On training using the Medit Apps with cases that we will provide for you to download prior:
Smile Design – how to make a smile design for your patient in 5 minutes.
Ortho Simulator – as a communication tool to increase your clear aligner treatment sales.
Medit Design – use the compare function for patient monitoring and communication.
Model Builder – how to get your scans ready for printing. From Scan -> 3D model.
Medit Temporaries – for 3D printed temporary crowns; when, why, and how to use it.
Sign up for the Day 1 Lecture, Day 2 Medit Hands-On Training, or both!